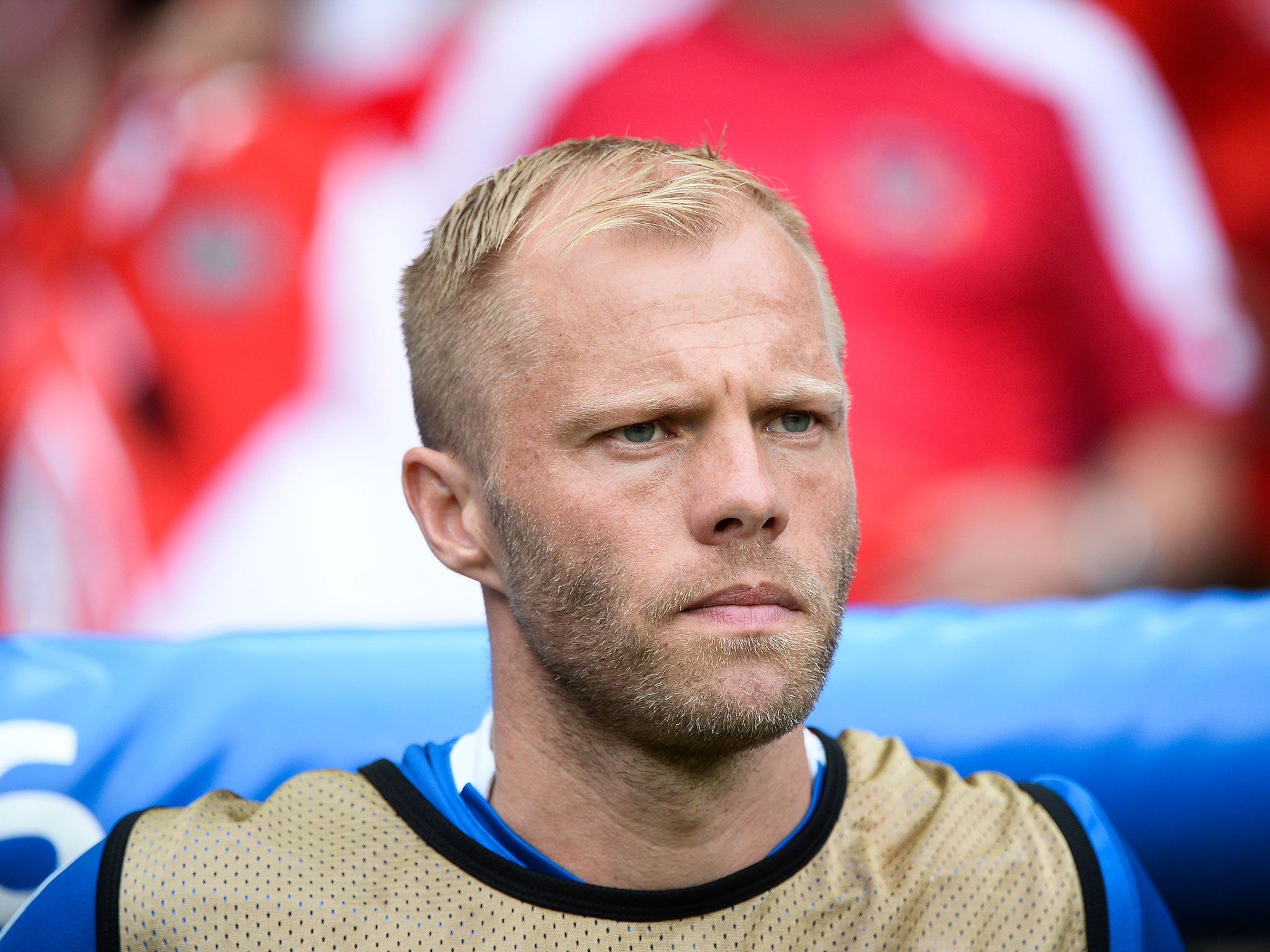 "If you can't talk about football then what can you talk about?" With a playful smile on his face, Eidur Gudjohnsen brings down the curtain on an engaging and revealing one-hour interview, one that snakes its way through a catalogue of topics, from Iceland's recent international success, to the ever-changing landscape of the game and, of course, the age-old Mourinho vs Guardiola debate that has come to dominate so many headlines in English football.
Indeed, such is Gudjohnsen's knowledge of the game that it's hard to imagine him talking about anything else. Retired as of last year, the former Chelsea and Barcelona man now spends his time watching, assessing, critiquing the sport as a pundit, interviewee and fan. A commanding presence to be around, Gudjohnsen speaks passionately about his trade, with impressive articulation and weighted consideration.
Still, it takes a while for the Icelander to warm up when we meet on a hot, humid Wednesday in the capital. Tucked away in a Bohemian-looking room off Shaftesbury Avenue, away from the rush of London's China town and the selfie-taking tourists that roam its street, it's been a long day for Gudjohnsen who, by this point, has already spoken to his fair share of prising journalists. He's feeling a little jaded. We all look the same to him. We all ask the same questions.
Thankfully, though, this doesn't make his answers any less intriguing. Pep Guardiola? "An introvert." Jose Mourinho? "A big character." Harry Kane? "I wasn't convinced he'd become the player he eventually became." Iceland? "We haven't found the secret we've just found something that works very well for us." Bolton vs Barcelona? "The atmosphere at the Reebok can be as good as the Nou Camp at times."
It's on the state of the game, though, where Gudjohnsen really starts to perk up. Blooded in those nascent days when the Premier League was still finding its feet, the Icelander later found himself caught in the midst of a Russian revolution as Roman Abramovich's billions turned English football on its head. In came the likes of Damien Duff, Joe Cole, Hernån Crespo and Claude Makélélé, followed by a charismatic manager from Portugal. Millions were pumped into the club, setting a precedent that has shown no signs of subsiding in the years since.
Whether this has changed the game for the best, Gudjohnsen is noncommittal – but that doesn't stop the ex-midfielder from offering his two pence. "If you look at the demands of football today, everything has to happen straight away." A snap of the fingers. "We want teams to play well, we want success, we want everything. We almost want perfection. And we want new players to come in and set the world on fire, entertain us and just be the complete package as soon as they walk through the door. 
"When Frank Lampard joined, in 2001, I'd been at Chelsea for one season. We spent £11m on him. £11m back in the day was a lot of money. During pre-season I thought, 'Have we spent £11m on him?' In his first season he played all the time but nothing spectacular, four or five goals. Second season, a lot of improvement. By the third season, this is purely due to his work ethics, because of his professionalism, because of his mindset towards the game, he was becoming the best midfielder in Europe.
"I might be going out on a limb here, but I don't think the Frank Lampard that joined Chelsea would get the time joining a club now with the space of two seasons to become the player he became, because the demands are so high. Probably the most recent example is Mo Salah. Chelsea had him. It didn't really work. But how much time was he given? Not enough."
Gudjohnsen is fully aware that the game has come a long way from his early playing days. Under the shadow of surveillance that now hangs over the sport, every move, every gesture, every word can be scrutinised and picked apart. Players are expected to do this, do that, behave a certain way; this claustrophobic culture, Gudjohnsen explains, has had its effects.
"The media coverage, all this social media 
 anything good or bad is hyped up through the roof," he says. "So the pressure on players are different as well." Pointing to the example of Sam Allardyce and Everton, he adds: "It demands more than just climbing up the league, we have to play a certain way, and we have to entertain the crowd and have all the best players on display." Is he happy to have played when he did, then? "It never crossed my mind. I was just happy to have played when I played."
Looking back, you can't really blame him. Back-to-back spells with Chelsea and Barcelona brought the Nordic king countless riches: two Premier League titles, one League Cup, one Champions League trophy and one Uefa Super Cup, among others. It was his time at Chelsea, however, that Gudjohnsen looks back on most fondly.
"I just felt great. I was young, fresh, enjoying my football; Chelsea was definitely the time where I felt like I was getting the best out of myself – even at times at Barcelona I had some really good games, but obviously it was more difficult where I'd play one game and then not play for two games. Chelsea when I think back was the best time."
It was also a period in Gudjohnsen's life that saw him train and play under two of the biggest managerial names in the modern game. As one of the few footballers to have come off the bench to replace their fathers in an international match, the Icelander is also part of a rare minority to have been coached by both Jose Mourinho and Pep Guardiola, offering him a unique comparative perspective on the two men.
"I always say the same: they're very similar in their eye for detail, in their obsession in how the game should be played. I think Guardiola puts more emphasis on possession of the ball and how can we dominate the opposition in possession and overload spaces where the ball is being played. 
"Mourinho is a little more direct, and this is from my experience. Both [are] at a standard which is very similar, it's just who do you like more. The biggest difference is the characters. Mourinho has got a bigger personality, a bigger character than Guardiola. Guardiola might be more of the silent type, thinking, an introvert."
Given his insight, given his experiences, hours could be spent down the rabbit hole with Gudjohnsen, reliving those memories from Bolton, Barcelona, Brugge, Shijiazhuang Ever Bright. A self-confessed journeyman, the Icelander has seen it all.
Part 2 of Eidur Gudjohnsen's interview with The Independent, in which he discusses the rise and rise of Iceland, will be published next week.
***
Eidur Gudjohnsen is a World Cup brand ambassador for 188BET. The firm is offering money back up to ÂŁ25 as cash on losing World Cup Outright Winner bets if Brazil win the World Cup: www.188bet.co.uk/promo/brazilcashback
Follow the Independent Sport on Instagram here, for all of the best images, videos and stories from around the sporting world.